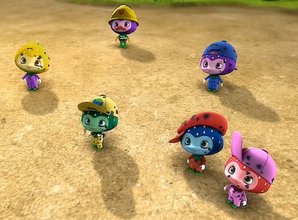 The Berrykins are among the minor characters in Strawberry Shortcake's Berry Bitty Adventures. They work hard, power the city, and do some construction and any task given, except for Princess Berrykin who rules the city.
Known Berrykins
Quotes
Becky: Raspberry's not going to like this...
---
Ed: We're ready to go, press the button, Earl!
---
Bruce: AND... HALT!!! (Makes Earl go to his proper space) AND... DIG!!!
---
Earl: I don't know how she can stand it...
Earl: Strawberry can stand working in a café that's... you know... haunted.
---
Trivia
In addition to the above Berrykins, there are some more who are mentioned but do not make on-screen appearance:
Of all the Berrykins, Berrykin Bloom and the Princess are the only who appear in all four seasons.
Gallery