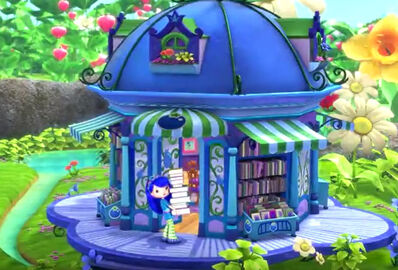 Blueberry Books is a book store and library located in Berry Bitty City. Blueberry Muffin runs it and lives there with her puppy, Scouty. She is assisted by Bosley Bookworm.
Blueberry Books is the hot spot for anyone in need of a specific book: from cooking to building traps to stamp collections to organization - there is a book for everything here. It's also used for the Book Club or other events, when they are not held at the Cafe.
In the 2D Map it is shown to be near Fresh Fashions Boutique.
Exterior
Blueberry books is a rounded building resting on a small, four-petal shaped porch of pale blue, lined in blue that has matching steps leading to the front door. Several book shelves and stands surround the door decorated with blueberries, along with sky blue columns and awnings of mint and green stripe, the main being decorated with a blueberry. The roof has a window on each side with a flower pot resting beneath it. 
Daisies and large yellow flowers surround Blueberry Books, along with a lake. On the path near it, several strawberry plants are visible.
Interior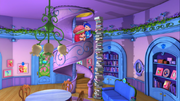 Blueberry Books has a very big first floor that is rounded in shape with a lilac purple themed wall and spiral stairwell in the center of the floor. The floor is made of wood. Along the top of the wall is a blue design with many blue flowers decorating it, while along the floor is a purple area with blue designs all over it. Adorning her walls are many photos and built in blue bookcases with purple inner coloring and small shelves. These are filled with books and small objects.
A few couches and tables are off to the side in the room, as stated above, due to Blueberry holding book club there. Above the table is a flower themed ceiling multi-light, while beneath it is a purple rug.
Trivia
Behind the counter, Blueberry keeps a stationary set for anyone who may need pencils or paper.
On "Partners in Crime" Blueberry reveals that she has a hidden Patty Persimmon accessory collection. It includes Patty's mystery club detective hats and the complete collection of the official Patty's magnifying glasses.
At times, a blue computer is seen on Blueberry's desk.
Gallery