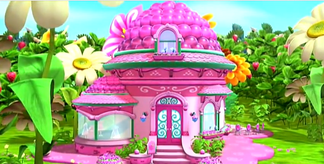 Fresh Fashions Boutique
is the fashionable clothing shop in
Berry Bitty City
. It is run by
Raspberry Torte
, who lives there with her cute little puppy,
Chiffon
.
It is located to the left of Lemon Salon, and to the right of Blueberry Books in Berry Bitty City.
Exterior
The Fresh Fashions Boutique is pink themed with fuchsia, dark pink, and cyan accenting.
The base is round with pale pink coloring and a row of stairs leading to the raspberry-colored double door. Around the middle portion of the building is pink with pale pink designs around it. The roof is shaped like a large raspberry with a window section on each corner, held onto a pale pink and blue-melon band. Large display windows rest on each side of the main floor, allowing people to come by and window shop. Many various daises, tulips, and strawberry plants surround the shop. 
Interior
The inside of Fresh Fashions Boutique is painted pink. There is a large rug on the floor. There are pale pink cabinets all around the room. There are purple curtains for the windows that are very long. The floor is laden with magenta polka dots.
There are two floors inside, with the stairs shown being used a few times.
Trivia
Gallery