These are the many different locations/places found in Berry Bitty City.
Main businesses
These are the businesses of Berry Bitty City that are run by the main characters.
This place is well known. Strawberry Shortcake runs this Cafe. It is always seen that her cafe is used not only for eating, but for special meetings and gatherings between the main characters.
Orange Blossom runs this place. Orange Mart is well known for being organized and for selling every single thing known to the citizens of Berry Bitty City. 
Lemon Meringue runs this salon. This place is well known for hairstyling, manicures, pedicures, etc., done by Lemon.
Blueberry Muffin runs and lives in this place. It sells different kind of books, from magazines to dictionaries, and Blueberry always has a supply of Patty Persimmon books ready, too. 
Raspberry Torte runs and lives at this place. This place is known for fashionable clothing, that Raspberry sews and designs herself.
Plum Pudding runs and lives at this place. This place is used by Plum to teach Berrykins and the girls how to dance many different styles of dance. Plum often hosts dance classes at the studio.
Others
Mail Office
This place is located inside the Orange Mart. You can see Jadeybug inside sorting outgoing mail. Postmaster Bumblebee with the other bumblebees also work there.
Berry Works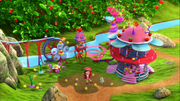 This is the place where the Berrykins produce the juice that powers the whole of Berry Bitty City.
Strawberry had the the marketplace constructed to help offset the overflowing produce at Orange Mart.