If you ever wished to learn recipes the girls make, or perhaps you wish to bake the foods they are named for then this is the place to visit!
Below is everything needed in order to make the recipes, including the picture card itself that it comes on so that you can print it out if you wish. The page will be divided by character card foods, and foods based on the Characters name or those that appear in show. Everyone recipe is easy and fun, please make sure every detail is correct if you wish to add to this page and have a Berry nice day~!
Strawberry Shortcake Character Recipes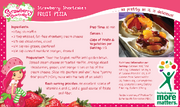 Preparation Time: 10 minutes
Serves: 1
Cups of Fruit and Vegetables per serving: 1/2
Ingredients:
1 english Muffin.
2 tbsp whipped, fat-free Strawberry Cream cheese.
1/3 cups strawberries, sliced.
1/4 cup grapes, quarted.
1/4 cupped canned mandarin oranges, drained.
Preparation: (Please have an adult help you if you are young of age)
Toast the english muffin until golden brown.
Spread Cream cheese on toasted muffin.
Arrange Orange slices, Strawberries, and grapes on Cream cheese.
Slice into quarters and you'll have a "Yummy fruit pizza!"

Ingredients:
1/2 cup fat free vanilla Ice Cream.
1/2 cup Orange Juice.
1 orange, peeled and frozen.
Preparation: (Please have an adult help)
Throw everything in a blender and enjoy!
Ingredients:
2 tbsp lemon juice.
1 tsp curry powder.
1/2 cup low-fat lemon yogurt.
1 12-oz can solid white tuna in water, drained.
2 cups of red seedless grapes, cut in half.
2 sliced celery stalks.
1/3 cup chopped dates.
12 red or green lettuce leaves, washed and patted dry.
Preparation: (Please have an adult help you if you are young of age)
in a medium bowl mixed the first three ingredients and mix well.
Stir in remaining ingredients except lettuce.
place about 1/2 cup of tuna mixture on two lettuce leaves and roll up.
Garnish with additional red grapes if desired.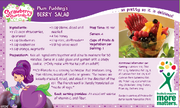 Preparation Time: 15 minutes
Serves: 4
Cups of Fruit and Vegetables per serving: 1
Ingredients:
1 1/2 cups quarted strawberries.
1 cup blueberries.
1 cup raspberries.
1 cup orange segments.
1 cup seeded and diced plums.
4 tsp honey.
1 tsp mint, chiffonade * (view image card).
1/8 tsp anise seed.
Preparation: (Please seek adult help if you are young in age)
Mix all ingredients together.
Marinate for a half hour/thirty minutes.
Serve in a cold glass and garnish with a cookie!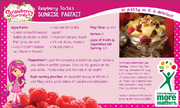 Preparation Time: 15 minutes
Serves: 4
Cups of Fruit and Vegetables per serving: 1/2
Ingredients:
2 cups canned Pineapple, tidbits or chunks in 100% juice, drained.
1 cup (1/2 pint) Raspberries (fresh or frozen).
1 cup low-fat Vanilla Yogurt.
1 sliced medium banana.
1/3 cups chopped dates.
1/4 granola.
Preparation: (make with an adult)
Layer the Pineapple, Raspberries, yogurt, banana, and dates in parfait glasses.
Sprinkle the granola on top and serve~!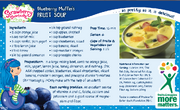 Preparation Time: 15 minutes
Serves: 6
Serving of Fruit and Vegetables: 1 1/2
Ingredients:
5 cups orange juice
1 cup nonfat milk
3 cups non-fat plain yogurt
2 tbsp Lemon Juice
1 tbsp honey
1/4 tbsp ground cinnamon
1/4 ground nutmeg
1 cup chopped apples
1 cup blueberries
1 cup sliced Strawberries
1 cup sliced banana
1 cup mandarin oranges
1 cup pineapple chunks
Preparation: (Make with adult)
In large bowl combine juice, milk, yogurt, lemon, honey, cinnamon, and nutmeg.
Mix and add apples, blueberries, strawberries, banana, orange, and pineapple.
Mix again and serve!
Recipes For Various Foods in the Show
Applesauce
Ingredients:
3 pounds of apples
2/3 cup Sugar
1 tablespoon of Cinnamon (unless you wish to cut back to 1/2)
1 cup of water
How to Make
Peel, Core, and Cut the Apples.
Place apple pieces into a big pot, add water, sugar, and cinnamon and bring to a boil.
Reduce Heat, cover, and simmer for about 20 minutes.
Carefully test the soft-ness of the apples and its sweetness. Add more sugar if desired.
Using a potato masher, Mash Apples to desired consistency if you wish for chunky applesauce. If you like smooth then put into a food processor until the right smoothness.
Makes 1 quart, serve hot or chilled. Keep leftover refrigerated.
Peanut Butter and Jelly Sandwiches
Ingredients
Chunky or smooth peanut butter
Any type of Jelly
Two slices of bread
How to Make
Lay down two pieces of bread
Using a knife spread Jelly on one slide of bread
Spread Peanut Butter on the other
Put the two halves together and cut in half if desired
Jam Sandwich
Ingredients
Any type of Jam
Margarine or Butter
bread
Preparation
On piece of bread, put a low amount of butter down. Then cover in Jam.
Chamomile Tea
if you wish to make your own, instead of using a packet here's how
Ingredients
2-3 tbsp dried Chamomile flowers per cup
Hot water
(optional) Lemon Juice or Honey
How to Make
Put dried Chamomile flowers into a cup
Pour in hot water
Give it three minutes to mix together
Strain into another cup, use tea strainer to catch the chamomile flowers.
Drink.
Smoothies
A smoothie can be made with any fruit or vegetable.
Ingredients
Milk or Milk alternative
Fruit Juice
Strawberries
Bananas
Other fruit if you wish
(optional) Ice cubes, yogurt, ice cream
Preparation
Take out a blender or food processor and add the liquids first
Add fresh, or frozen fruits
add 8.oz water/milk/juice/or yogurt. You could also add Ice Cream
Drop between 4 to 6 ice cubes into the blender, one at a time. (If thinning is a concern, only add half of that, then add more after a few minutes of blending)
Turn the blender onto Medium
Once the ice cubes are done blending, turn off and let sit for a minute.
If you like how the smoothie looks, add it to a glass.
If it is not sweet enough, add honey or natural sweeteners.
Garnish if you would like, and enjoy :3
Strawberry Lemonade
Ingredients
1 cup of Sugar
1 cup of water
1 pint of fresh strawberries
1 cup of lemon juice
4-6 cups of cold water
How to Make
Combine Sugar with 1 cup of water in a saucepan until a syrup forms. Place over medium heat until the sugar is completely dissolved, Swirl the pan occasionally.
Let it cool before continuing
Once it has cooled, puree the strawberries in a blender with 1/2 cup water
In large pitcher, combine the puree, syrup, and lemon juice. Stir to combine
Add 4-6 cups of cold water, add more or less if desired until you reach the perfect sweet/tart balance
Serve with Ice and add lemon and Lime slices.
Apple Cider
Ingredients
Apples
Cheesecloth (a cloth that juice/liquid will go through when squeezed)
Orange Rinds
Lemon Juice
Happy wishes~
How to make
Wash the apples thoroughly
Next core the apples, if you do not have an apple corer, simply cut the apple in half and carve out the centers.
Slice the apples into quarters and puree them, peel and all in the blender or food processor until finely ground.
Now spread the cheesecloth over the container of your choice and pour the pulp into the cloth.
To get all the juice, squeeze it once it has finished straining
Once ready to drink, warm up the apple cider
Add a small pinch of orange rinds and a bit of lemon juice
Think happy wishes while mixing and enjoy :3